We're sailing again!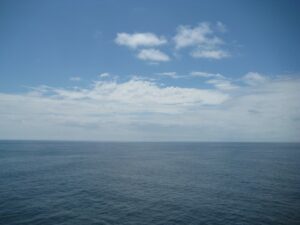 It's so lovely being back at sea, and David seems to quite like it too.  He actually slept right the way through the night the first night!  Amazing… (If only he'd do it again…)
AV work is going reasonably well.  We're doi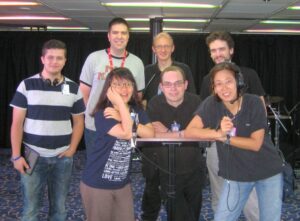 ng loads of training, as much as possible, but still trying to get everything working again too.  It's really hard trying to arrange work for people to do, who know nothing about A/V at all, and may not have even touched a sound, lighting, or video console before joining the team.  Still, they're all great people, and we're having a lot of fun.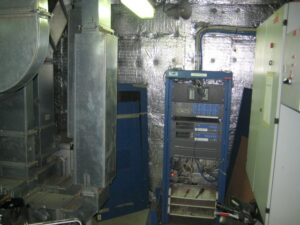 One very frustrating thing was that I had to fix the Deck 4 music and paging system.  For whatever historical reason, that's part of A/V's responsibility, rather than the electricians.  The rack is located in a loud noisy fanroom, full of dust and grime.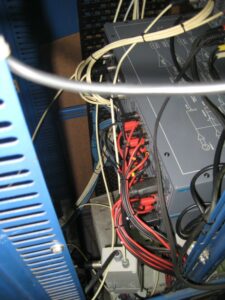 The rack isn't very accessible, and getting in to the wires is really really awkward and scrapey.
It's not massively well documented (another task on my list…), and I think several people had tried to fix it recently, so all the settings were messed up.  In the end, I pulled out the entire system, took it down to our storeroom to clean and test and set up, and then brought it back and plugged it in.  It all worked!  Which was great.  It just then took ages of walking around with the team getting them to tell me which zones were connected and had the right volumes, and so on.  Not fun, and as it needs to be working before we arrive in the next port, it meant I had to do that for 4 days rather than work on any of our venues. Grrr…
The new portable 'fender' sound systems that we bought are a huge success.  They work really well.  I asked one of the new A/V team to paint 'Logos Hope A/V' on the side of them all so that they don't get lost, or apprehended into some other department.  I was expecting something ugly but functional.  Instead I got this: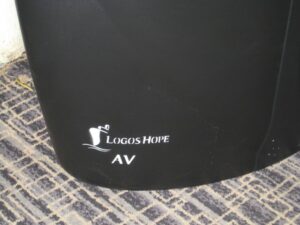 Really cool!
Anyway, to end this post, here's a photo of David from when we took him to the kids water zone at the mall in Singapore.  Wet as a fish, a nappy as wet as he, and as Becky puts it, "Happy as Larry". (Whoever Larry is…)