This has been a fun week… most of it. Exciting, and all, anyway. We had a damage control drill, in which the fire attack team had a chance to play with our big emergency submersible pump (big blue thing, about the size of a child and the weight of a man) which had to be carried down to the engine room, and dropped into a tank of water, and then they had the fun of emptying a few tons out of the porthole, and then the rest we transferred into another tank. Great fun for them, very good that they finally get a chance to work with that pump (it's a monster!). And the tanks, of course, mean work for the watermen! 🙂
We had two tanks which were on schedule for being worked in (we emptied out one of them a month or so ago, and had deck teams in there scraping off the old dead cement, and we last week got the new cement on all the walls.
So we had to open up this empty tank again, and open up the other tank, and get everything ready for that. This meant the usual sitting for a few hours in a bilge/tanktop covered in slime and grease and oil with various sizes of wrenches/spanners getting the manhole open.. This one also created a few more problems though, as some of the nuts were really old and totally seized up.
I had to find out how to get them off. I tried everything I knew how to do (various lubricants, hammers, spanners with extensions, and so on). My next and final option was to grind the thing off. As this is in a bilge, with oil and all about, it's quite dangerous to do grinding, as you have sparks all over the place. So you need "Hot Work permits" which are paperwork to make sure you follow all safety procedures, have another guy on firewatch while you work, have fire extinguishers ready, etc… The chief mate suggested I try using just a oil burner/torch and heating up the nut around the edges, to try and expand it and so free it up. This would also require Hot Work permits, but would be safer, and also a lot easier, if it worked.
As I was getting ready for this (with the deadline being the drill the day after), the chief engineer suggested just using a "Nut splitter", a really cool tool I'd never seen before. Basically it's a chisel with a threaded end, a bolt on the end, and a case to drive it through the nut, as you tighten the bolt. Very cool indeed. So I found this device, and amazingly, it worked! Very nice indeed. I was chatting with the Engine Foreman afterwards, and he suggested a few other ideas involving chisels (and hitting the bolt in the right places to expand the right parts). So I have lots of new stuff learned. Cool. I'll put it all in the "Waterman's Bible."
Have I mentioned the "Waterman's Bible"?
It's our source of all knowledge and wisdom, concerning the job. When I joined, it was about 4 pages long, very hastily put togeather, and with confusing notes, and about as comprehensive as "Spot the Dog" is as a guide to the English language.
So myself and the former watermen began to add to it, and since I took over as head waterman, I've added diagrams of valves, information about the "Free Surface Effect" and other important things we really need to know, but were always handed on (getting more and more incorrect over time) by word of mouth, or just totally ignored, and other interesting information (such as "Where to find people to hang out with on the ship at 2 in the morning when you're waiting for the final water truck to arrive" and "Where can I get new hose-clips?" and "Where can I find good coffee?" or even "How can I get these wretched rusted nuts off the manhole-cover!?" for instance.
Currently the "Waterman's Bible: Nearly Accurate Simplified Version (NASV) April 2007 Edition" is around 50 pages long.
So, back to my week. Three days ago we had to move the ship a few hundred meters down the quayside, so a container ship could come in… the next morning we moved her back again. Then we have have 3 containers of food/books/supplies/chemicals arrive in (including 2 new waterhoses I ordered 3 months ago!).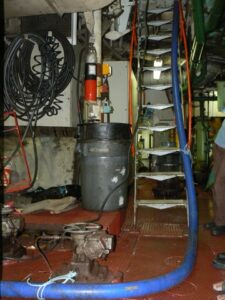 And most recently, yesterday.
Yesterday was International Night (I-night). Our big festival of songs and dances and dramas from around the world! We're having two this port, for different audiences, and I am on the "I-night Crew" now, doing the multimedia (videos, cameras, projectors, etc). Yesterday was my first time doing that, always before I've been on stage performing. It was so much fun! So good to do theatrey work again. I love the energy and excitement of it. I was sitting on my own with a laptop, projector and camera (and camera person for a while) with a headset on listening to the stage director and back stage crew, and most things went pretty well.
At the beginning of this I-night we had a local Christian band playing, and then we went into 2 movies/video clips, and then the show proper. 5 minutes before the local band started their sound check, the singer came up to me with a USB stick and said "Hey, can you show this powerpoint, it's the lyrics of our 3 songs, while we sing…"
Yeah, no worries… Except, it's all in Mandarin! And I don't really speak any Mandarin at all!
He told me. "OK, these are my hand signals I use with the band, 'this' means 'Chorus' and 'this' means 'from the top'. We have 3 songs in this powerpoint, the first one is slides 1-3, slide 3 is the chorus…"
Woah! Cool! Bring it on! In the end, we did find one of our translators who could run the lyrics with me, which helped, rather.
After the local band, we had those two video clips. The first one for some reason was not on the laptop (someone else had set up the laptop and files on the ship before the day), and it only arrived 10 minutes before the performance! Still, I had them ready. Then, just as I started the clips, the sound came on, but no video on the projector! This was crazy! I'd just been showing lyrics on them! We'd managed to get a flatscreen monitor from the venue to use as a second monitor display by me, so I could set up the videos on the screen before switching the video-switch to display the computer, and the video was playing fine on my monitor.
So I switched off the video and began checking cables, while the whole audience was sitting there… and I found the projector had switched itself off! So I turned it on again, and reset my videos and got it going again. The whole time (probably only 15-20 seconds at the most, from when the sound came on without visuals to when it started working properly) with the stage director and everyone worried in the headset, and me on my first time with multimedia i-night. It was great! I love theatre.
Everything else went pretty smoothly. It was a long day, we started at 6.30am (after getting to bed around midnight the night before because of the container arrivals, that was a 14 hour work day), and then finished de-briefing after the I-night around half past midnight, and then eating dinner til past 1am, (So about 18 work hours…) Then I was up again this morning at 6.30 to get ready for a study group. I don't think I'll work too hard today, except I have my normal work to do, after church, then 2 Irish dance performances later in the afternoon, I need to do my work appraisal with the chief mate, and also a sermon review with the study group coordinator about 5pm…
[Ding Dong, Ding Dong…]
OK, just to add to the fun, the fire alarm just went off. Some kind of electrical fault in one of the wires, they guess. I was at the firestation with the others for about 10 minutes, they couldn't find anything in the whole zone where the alarm went off, so they've isolated the alarm, and check again in an hour.
Yeah. Fun week.