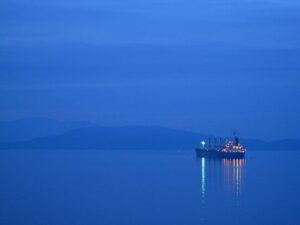 We're now sitting at anchor just outside the dry dock, as there is a typhoon around, and heading our way, and the dock master doesn't want our big heavy solid-as-a-rock ship smashing up his quayside. Also the ship next to us just started sand-blasting their hull, and we don't want all that sand all over our nice clean ship.
As well as making rope-ladders, I'm also working at the new lights installation in our Main Lounge. As the ladders team is quite small, I feel kind of guilty and silly trying to get time off that to make the lights, and we have 3 ladders to make and everything, so I'm kind of doing lights and video stuff in my deck dept "off time".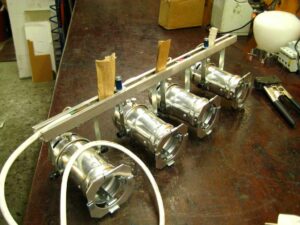 This is one of the finished products, this amazing bar will attach into our ceiling (or false deck-head, or whatever you want to call it) at any place in the Main Lounge.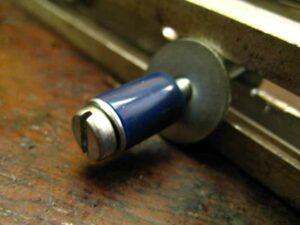 This is the clever fitment idea from our ex-electrical officer. The blue rubber is actually from a stethoscope that we attacked, and then a wing-nut underneath tightens the bolt which squeezes the rubber and makes it hold into the ceiling. Amazing…
We then have 6 places in the ceiling which will have 4 power sockets for them, which are linked to our dimmer pack. We also have made a patch box which allows us to run DMX (lighting control signals) down our "comms" system (a complex head-set communication system built into our Main Lounge, something far too complicated and big for such a small venue…), and so to plug in a bunch of coloured LED bars lamps on the floor. Fun stuff.
My parents actually bought these lights just before LAST dry-dock, that is, about a year ago. Then, due to ship-politics, mis-communication, and lack of real push, they never got installed until this dry-dock. Rather sad.
So as not to end on that unhappy note, the lights are being installed.
And now for something totally different…
I went to get some coffee. it appears that the Programme Room coffee maker hasn't been used in a while: