We just had a pretty awesome day off.  We woke up pretty late.  Well, that is to say David woke up very early, and we were too tired to try and persuade him to sleep in his cot again, so he came to join us in bed for a couple more hours.  Eventually we all got up, and had a bit of breakfast.
I then went to the galley to get some supplies (icing sugar, cocoa powder, carrots, pears, and dry pasta) for us to make cakes for some of our 'ship family' birthdays coming up, the rest for making food for David.  You can guess which ingredients are for which activity.
I then took David to run around and play in the Logos Lounge, while Becky did some laundry.  We then had lunch, and then (finally) got around to giving David his first toothbrush, and first teeth brushing!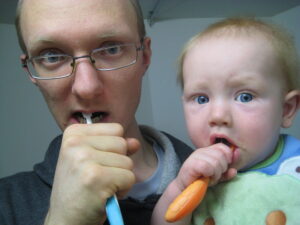 We next headed out by MRT to the Singapore Botanical Gardens.  It was lovely – really peaceful and green, but extremely well paved and buggy friendly.  We found a somewhat random statue of Chopin,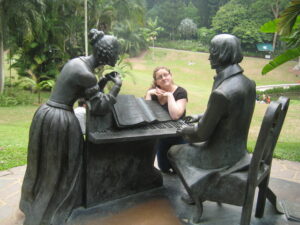 we managed to prop up the camera on the buggy for a family photo too: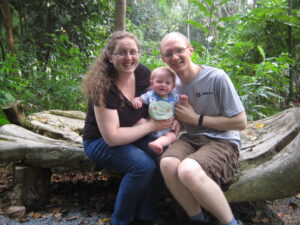 David wasn't totally convinced by all the shots, though: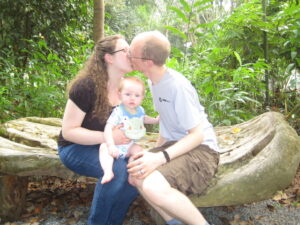 We spent a few hours there, and headed back.  We bought a couple of extra bits from the supermarket, and got back just in time for dinner.  On the way through the mall, Mini were giving out free balloons – so David got his first balloon as well!
At Dinner, our friend Maria, one of the new AV team, came and sat at our table and said, "So, we're playing settlers tonight, right?"
So we went up to the cabin, and had a lovely game of Settlers of Catan!  David loved it, and for some reason went in to giggles almost every time Maria rolled the dice for the first half of the game!  Funny boy.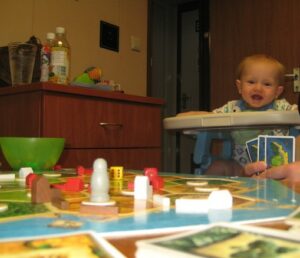 We finished the game – Becky won, with 10 points (short game), by stealing the longest road from me and Maria would have won on her turn, again, by stealing my longest road.  We were just about to pack away, when Becky looked really puzzled, and realised that I should have won the previous round, as I also had 10 points (I'd forgotten about a hidden victory point)!
So.  Quite even.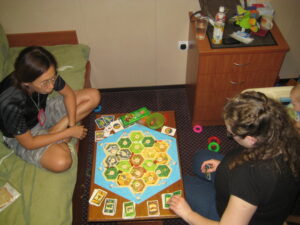 A good day.