I was just up in Famagusta over night, meeting the Anglican church there who've been praying for me while I'm on Doulos. I'm slowly putting together a video about Cyprus, and so while there was able to get some photos and a bit of video footage which hopefully I can use.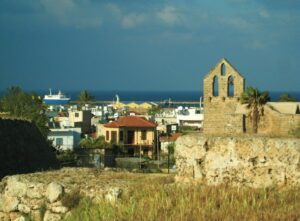 Cyprus is beautiful. The Anglican church there meets in an old old church which has been in disrepair for quite a while, and now is actually a cultural centre for the university, or something like that. So there are plenty of old icons around.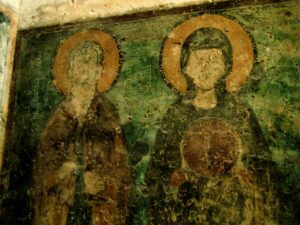 We've been out sailing a few times now, it's great. The boat is pretty well amazing with all the new ropes and such we've put on it.
Here's a quick photo of the Out-haul on the mainsail (the yellow lines and tackle which pull the sail out along the boom, making it slightly wider, and the shape flatter, which can help to get ripples out of the sail, thus improving the shape, and speed, take a bit of power out of the sail in heavy winds, and so on.)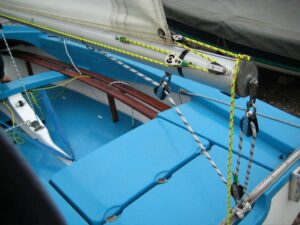 Dad's quite happy with it all, but alas last Saturday when we went out sailing, the waves were very big, and while coming back in we managed to damage the centreboard (the big wooden thing I spent time sanding and varnishing a few weeks back). So now we've taken that out again, and today I've added some glass-fibre filler stuff, and will try and finish it back to decent shape again by this Saturday. Yes, I did leave it a bit late.
Last Saturday's sailing was fun though. We and our sailing friends went out only for about an hour, and crossed pathes a few times while tacking, so when we did the first time, I put on my best piratey third-mate voice and roared "Port side cannon teams 1 3 and 5 fire a full broadside! Naaar!" and then the next time we crossed, they made cannonball flying and splashing noises, so just as they passed us, again I shouted "All torpedo tubes togeather, fire!"
So. There you go.
3 weeks until I'm back to work, for a while I'll be in the UK working at the office there doing mediary things, and learning stuff to bring back to the ship.
Still almost 3 months 'til I'm on Doulos again though.