Hallo blog.
Here are some photos of my bathroom. The first is of after the plumbers started their invasion.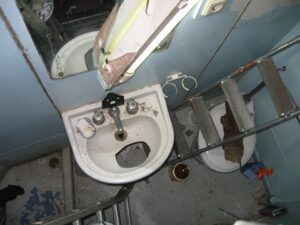 The thing on top of the toilet seat is a leather welding glove., in case you wondered.
The reason there is a toilet brush with a red ribbon on is because I helped the accommodation department with a video one time, and they gave me this as a present.
The light is hanging off the wall, yes. And the wooden fitting is all broken too.
This photo shows more clearly (perhaps) the underside of the sink.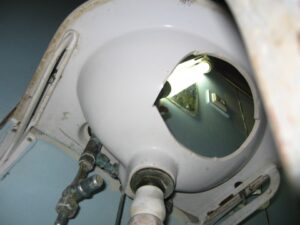 lovely, eh?
Happily, now the sink has been repaired… with cement and heavy duty black scupper paint.
It looks like this: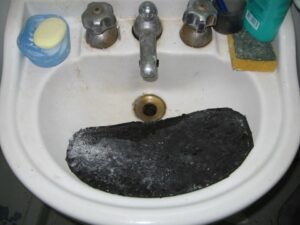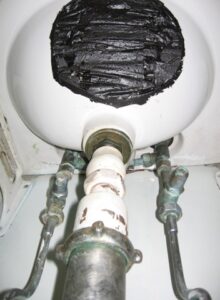 Quite amazing, is it not?
For those observant readers (or photospotters), you may have noticed that the wall behind the sink is now white, not that rather ugly blue. If you noticed this, congratulations, take 10 points. I dont know where you can take them from, but I'm sure there is somewhere.
Anyway. The bathroom is currently being repainted, by yours truly and my new cabin-mate,
colleague, and friend Tomas, from Mexico. We're going to try and make it look quite appealing, but currently it just looks white.
So. That's all about the bathroom. Current news? Well…
I'm reading "Slaughterhouse 5" by Kurt Vonnegut. Now that is a strange book. Very interesting, witty, clever, rude in places, but thought-provoking. I have a friend in the Engine Room who recommended it. He loves Vonnegut, and I have another friend who works in AV (Audio-Visual for programmes, etc) who also enjoys his works. I'm still in two minds about it. Very clever… I like some of his ways of working with language, and with stories.
I was just phoned 11 seconds ago and asked to play drums for music tomorrow with some others.
It's dinner time, I'm going to go get some food…