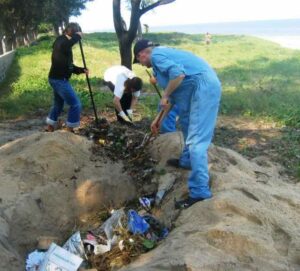 This is a photo from my E-day in (I think) Beira, where we spent the morning clearing up rubbish from the roads, and then from the beach area by the hospital, and then did an open-air outreach in the afternoon. We were told what to do with the rubbish by the local volenteer (who was told by the municipality rep he knew).
Dig a great big hole, and bury it.
The europeans in the group thought this was very funny. Anyway, so we did. The photo shows Yours Truely in a deckie uniform (that blue thing). I spent most of the 2 months wearing that thing.
Kind sexy, isn't it? Well… OK, not really. The shoes are alright though. Nice solid things, with steel tips. I was quite glad of those steel tips at one point. During Sabbath Week while I was on watch, the Bosun called me over to help move a cargo converyor belt, just the two of us, and it dropped onto my foot. The deckie manual says that one should always wear deckie boots while on watch, even though I was told by other deckies "Naw, don't. Just wear black shoes, so it looks smart. Your deckie shoes are all messy, so you'll get shouted at if an officer comes up."
I'm quite glad I ignored them, actually. That conveyor belt was heavy! But thanks to wonderful super-magic deckie shoes, I didn't feel anything, and we just then lifted it up again and put it up where needed.
I went to Karate last night, at the local centre. I started attending (once a week) about 3 months before leaving to join the Doulos. I hadn't really had a chance to keep it up while on board, although I did try to do some excersize some days. Right up on top of the ship is the "Sun-Deck", which is for crew only, and has some excersize equipment, an excersize bike, weights, a punching bag, and so on. There are also some hammocks, which aren't for excersize, but are nice anyway. It's quite noisy up there, because it is right above the engine room hatch, so you can talk privately if you want, and it is out of the way of visitors. Some of the guys would go up there every night to work out, do weights, and so on. Weights have never really been my thing, but I occasionally did some stretching, juggling, push-ups, and so on. It's amazing how much better you feel if you do some excersize each day, or every other day, or so. It's so easy on board the Doulos to just ignore that kind of thing, as the work on board (deck, catering, etc) is quite hard, and can leave you feeling quite tired, but without actually working out your whole body. Anyway. It's well worth it.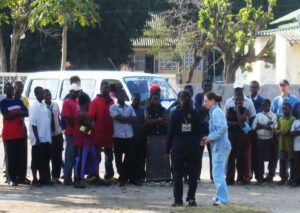 And this is a photo from the same day as before. You can see me in the background, watching the other two who were doing a drama, during the outreach bit. They didn't really want to do the drama, much (Statue drama), but they had organized it without asking if I wanted to act, and so when they found out that I love acting, they were a bit annoyed afterwards… Oh well. It was OK.
Yeah.